Against a backdrop of technological transformation and process modernization, a major energy company entrusted us with the task of supporting them in the digitization of their audit and internal control processes.
Objective:
Real-time automated controls (fraud risk, segregation of duties, double payments, compliance with procedures, etc.)
Enhance the quality of the purchasing process through internal control monitoring
Phase 1: Advice on the identification of automated controls to be implemented to cover the risks associated with the Purchasing process
Preparation of a theoretical scope of expected controls to cover the objectives of :
– strengthen understanding of the Purchasing/Supplier process. Ultimately, this will help to define more precisely the assessment of risks and the adequacy of the controls implemented to address them;
– automate processing, increase the depth of analysis and improve risk coverage;
– increase the effectiveness of controls by identifying trends and focusing on exceptions and areas of risk where further investigation is required;
– directly provide audit evidence as part of internal control work.

Comparison of "theoretical expected" controls with controls identified by the Group's audit and internal control team and already implemented in its companies;

Co-leads the Group's audit and internal control team (i.e. France and International) and produces reports;

Construction of an automated control program that can be carried out autonomously by Group companies and also transposed to the Group's various businesses, fed by data available in the Group's information systems. They must cover the risks observed in the various companies.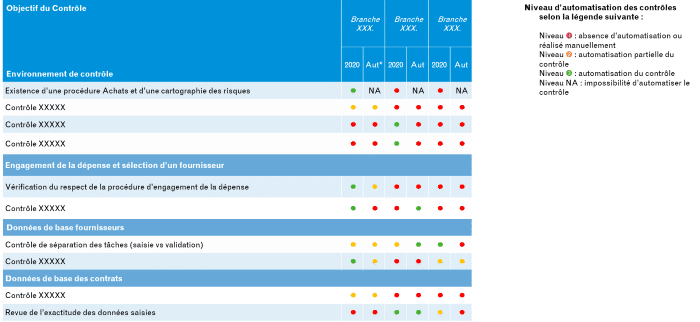 Phase 2: Implementation of IS-based controls for the Purchasing process
Preliminary study of the implementation of the theoretical framework of controls set out in phase 1, through interviews with the Group's various CIOs + proposal of solutions to be implemented to meet the customer's expectations;

Building controls on a test subsidiary, driving force on the subject ;

Construction of controls for all Group subsidiaries.
---
📞 If you have a project to digitize your internal control, contact us!
🔍 If you'd like to find out more about our innovative technology solutions for corporate management!